From Internet Archive's Wayback Machine
https://web.archive.org/web/20160412235139/http://www.rootsweb.ancestry.com/~cansk/school/copeau.html
Copy the URL from the top of the Rootsweb/Ancestry.com browser page and paste it into the Wayback Machine search box for any historical one room school districts which appeared on the Saskatchewan One Room School Project



Saskatchewan One Room School Project
Gallery Copeau School District
Saskatchewan One Room School Project provides an online history for current generations to enjoy, preserve, and experience, our historical educational, architectural, and cultural, heritage.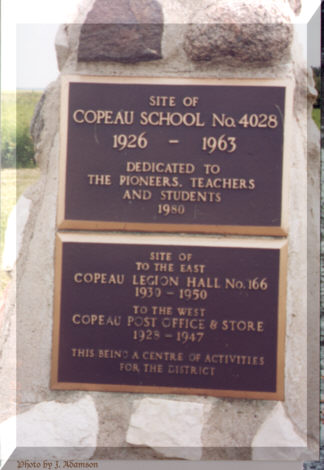 Copeau Post office NE 13 43 9 W2 situated north of Porcupine Plain, near Tisdale, Saskatchewan.
Plaque states:
Site of Copeau School No. 4028
1926-1963
Dedicated to the Pioneers, Teachers and Students 1980
Site of
To the East
Copeau Legion Hall No. 166
1939-1950
To the West
Copeau Post Office and Store
1928-1947
This being a center of activities for the district.
Thank you for stopping by # 2098
Web Page title: copeau.html
URL: /~cansk/school/copeau.html
Copyright © Web Publish Date: Friday, 07-Jun-2002 12:30:39 MDT All Rights Reserved
E-mail Webmaster ... Important Notice